Who Is Kintsugi Hope For?
Kintsugi Hope is a wellbeing group that aims to help address our emotional health. Each week, a different topic is covered, such as forgiveness, resilience, disappointment and loss. The group is open to anyone who wishes to attend
When & Where
The last course was held at our city site. If you are interested in future courses please do get in touch and the team will make contact.
When we have dates for our next course it will be advertised here.
What To Expect
'Kintsugi' (金継ぎ) is a Japanese technique for repairing pottery with seams of gold. The word means 'golden joinery' in Japanese. This repairs the brokenness in a way that makes the object more beautiful, and even more unique, than it was prior to being broken. Instead of hiding the scars, it makes a feature of them.
In Kintsugi Hope, we aim to repair and celebrate our brokenness as we consider various topics such as anxiety, grief, depression, and shame, for example. Each week, we focus on one particular topic and explore it via a variety of approaches, such as videos, discussion and practical activities.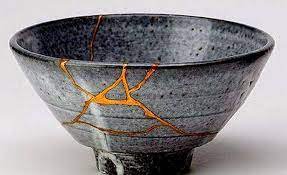 Interested & Want To Find Out More